Zune was popular many years ago when I was in college. I got one and loved to play music using this program. However, I could not play movies with .avi extension on my Zune. I am wondering if anybody knows how to make it work for streaming AVI on Zune?
Zune is compatible with WMV, MP4, and H.264 file format so if you want to play movies with .avi extension, just convert AVI to Zune compatible formats. In the following, I will help you further understand the issue about Zune and why Zune fails to play AVI files, and finally recommend three solutions for converting AVI to Zune for your reference.
Part 1. Introduction of Zune
As wiki tells, "Zune is a brand of digital media products and services marketed by Microsoft. Zune included a line of portable media players, digital media player software for Windows PCs, a music subscription service known as a "Zune Music Pass", music and video streaming services for the Xbox 360 game console via the Zune Software, music, TV and movie sales, and desktop sync software for Windows Phone." Unfortunately, Zune had failed to capture significant market share after five years against the Apple iPod, so Microsoft discontinued all Zune hardware players in 2011. Since then, no new Zune was developed but existing devices were still in use.
Zune supports the most popular formats like unprotected WMV, MP4, and H.264. And due to compatibility issues, some file formats are not supported, for example, files protected by DRM, AVI, and so on. Quite frankly, Zune cannot support as many file formats as possible so many third party software are developed to convert files that Zune does not support to those compatible with Zune. Here if you have lots of videos in the popular format AVI and want to import to play on Zune, you need to convert the AVI files to the formats supported by Zune. In the next part, I will introduce three outstanding AVI to Zune converters for your reference.
Part 2. Top three AVI to Zune converter software for reference
There are plenty of software capable of converting files from one format to another. From the perspective of user friendly interface, professional application, and powerful features, I select top three outstanding AVI to Zune converters here and will give each a brief introduction.
Top 1: Leawo Video Converter
It is a very professional video converter with powerful features. More than 180 formats are supported by Leawo and it provides a bunch of editing features to help users modify the file for better output quality. To make it more specific, the program is capable of retaining 1:1 quality as orginal files. Moreover, the all-in-one program incorporates download, convert, burn, blue-ray ripper, etc into oneinterface, which greatly faciliates users to convert files to their desired format.
Top 2: Alive Zune Video Converter
This is also a powful converter especially designed for Zune. As its name suggests, it can be used to convert popular videos to Zune or MPEG-4 format that can be played on Microsoft Zune Player. It is capable of converting various file formats. The Alive Zune Video Converter's built-in encode/decode engine can offer you fast conversion speed, and allow you to handle all popular video formats.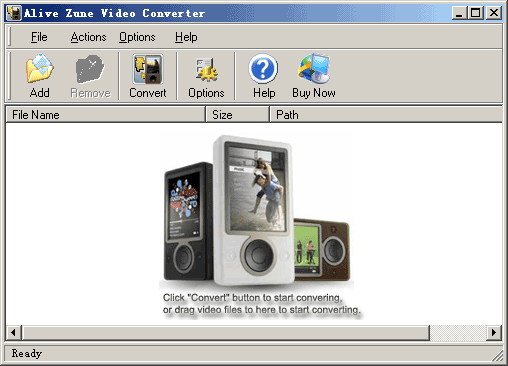 Top 3: Zamzar - online Zune converter
This is a free AVI to Zune video converter online. With it, you can freely convert files in AVI format to Zune compatible formats such as MPEG-4. Users do not need to install any software. However, since it is provided free online, it sets a limit on the file size and reqauires users to stay online during the whole conversion process. It worths a try if you want to convert AVI to Zune format and your network works really fast.
Part 3. Guide to Convert AVI to Zune with Best AVI to Zune Converter
After comparing the overall performance of the top three converters, I will recommend you to install a Leawo Video Converter thanks to its powerful features and high reliablity. Now let's have a look at the detailed steps to convert AVI to Zune compatible format MP4.
Step 1: Install Leawo Video Converter.
Click the download buttons below to download the program and install it on your computer. If you are a Mac user, download the Mac version.
Step 2: Input the AVI file to the program.
On the home page of "Convert", click "Add Video" or directly drag your AVI file to convert. If you want to add a bunch of files at a time, click "Add Video Folder".
Step 3: Change the output format.
Click Change under the format dropdown menu. You will be nevigated to a panel with lots of formats displayed.
Step 4: Locate MP4 as the output format.
On the Profile panel, input MP4 or other formats supported by Zune in the quick search box to locate the target format. Or you can locate it from the right panel one by one.
Step 5: Edit the target file before conversion.
Click Edit from the format dropdown menu. Here you can set parameters for the output file.
Step 6: Convert AVI to MP4.
Click Convert on the upper right menu and set a directory to save the output file. After that, hit the below red button Convert to start converting AVI to Zune format. As soon as the process completes, you will be able to play AVI on Zune HD for free.
Now you have a clear understanding of Zune and its supported formats, and know well how to convert files to Zune compatible formats using third party software. As I explained above, Leawo Video Converter will be the best choice for you to convert any file to Zune. Don't hesitate to have a try and give your feedback to other users who meet the same problem and want to look for a reliable AVI to Zune converter.