DVDFlick does not wok properly on my Mac. This irriates me a lot as I used to use this program for burning DVDs on my old laptop and now I have no other alternatives to replace DVDFlick. I know you guys are tech pros so can you kindly give me some options of DVDFlick for Mac alternatives?
Sure. This post lists top 5 DVDFlick for Mac alternatives for your information, but before that, a brief introduction of DVDFlick will be given to help users understand DVDFlick better.
Part 1. What is DVDFlick
According to Wiki, DVD Flick is capable of importing audio tracks, video files and subtitles, composing a DVD-Video movie and burning it to a disc – or creating an ISO image for later burning. DVD Flick supports 53 container formats, 42 different types of audio codecs and 72 different types of video codecs, including Windows Media formats, RealMedia, QuickTime, AVI, Flash Video and various MPEG-compliant formats. DVD Flick is an open source DVD authoring application for Windows. That's why DVDFlick fails to work on Mac and DVDFlick for Mac alternatives to burn DVD are highly demanded.
Part 2. Top 5 DVDFlick for Mac Alternatives
Talking about DVDFlick for Mac alternatives, it is not hard to mention below top 5 DVDFlick for Mac alternatives to burn DVD.
As one of the best DVD creators in burning DVDs, Leawo DVD Creator provides services for both Windows and Mac users, respectively. This program is a professional tool for burning DVD out from 180+ formats, and ensures 6X faster speed for creating DVDs. Moreover. It is capable of providing more than 40 menu templates for users and also allows users to create their own template with the help of built-in features. As far as I am concerned, this program is the best DVD creator ever.
This software is a paid program being developed to convert files as well as burn DVDs in fast speed. Some editing features are also provided to users to make their DVD more enjoyable. DVDs created by this software can support almost all DVD player for enjoying movies and videos.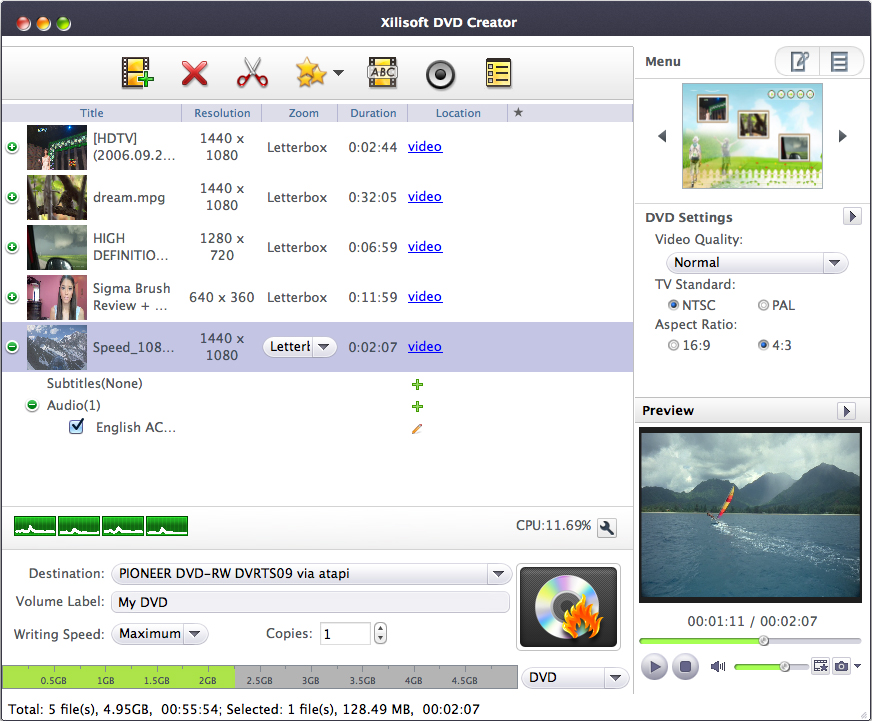 This program is also a good choice for DVDFlick for Mac alternative. It is developed to convert files and burn DVDs for almost all SD formats. The video created by this program is of high quality. Also, it enjoys rather impressive popularity among users.
Boasting 8-year experience in video conversion, this software is able to burn DVD in any format and supports video playing via almost all available DVD players. It is fast and simple to use and the video quality is also good.
5. DVDStyler for Mac
This software is good at video burning and it is really easy to install and use and contains a number of step-by-step wizards for new users. Supporting a variety of formats, DVDStyler is well known among users.
Part 3. Burn DVD with Best DVDFlick for Mac Alternative – Leawo DVD Creator for Mac
As Leawo DVD Creator for Mac is the best DVDFlick for Mac alternative, I will use it as an example to show you the detailed steps to burn video to DVD on Mac with DVDFlick for Mac alternative.
Step 1: download and install Leawo DVD Creator for Mac.
Click the below button to download and install the program to your PC.
Step 2: Add videos to the program.
Insert a blank DVD to your PC. Launch the program, and click Add Video or directly drag your videos to the program.
Step 3: Set the desired menu template for your DVD.
There are more than 40 menu templates available. If you want to make template of your own style, just customize one.
Step 4: Edit the video before burning DVD.
Click the editing icon to edit the file before burning DVD. Here you could trim or crop the video, add subtitles or audio track, add watermark and 3D effects. These are all available features for making your DVD much more professional.
Step 5: Burn DVD using DVDFlick for Mac alternative.
Click the button Burn to call out the window to set a directory to save the video after burning.
Step 6: View the burning progress.
After hitting the round Burn button, you can view the burning progress through the green progress bar. It will tell you how much has been done. After the video is burned to DVD, you will be able to play it on any DVD player or within the built-in media player.
No matter what kind of DVDFlick for Mac alternatives are chosen, you will be able to burn DVD with the help of these powerful programs. From the prospective of burning speed, efficiency, video quality, and cost, Leawo DVD Creator is the best DVDFlick for Mac alternative. With it, you are freely to burn as many videos as you want with the best output quality. Therefore, don't hesitate to have a try with this DVDFlick for Mac alternative to burn DVD.